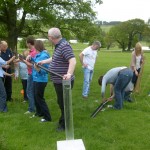 All activities can be run as a team building event or a specific program can be put together for your group to teach them to work together and to be tolerant and understanding of others. Problem solving activities can be run both indoors and outdoors and your group learns to work together to achieve a common goal.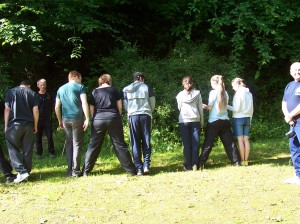 Working with your team to accomplish set tasks and to learn about each others' strengths and weaknesses and the different leadership styles, autocratic, democratic and laissez-faire and doing exercises that demonstrate the three leadership styles. Your group will look at "Task Needs" – a desire to get the job done;  "Individual Needs" – a desire to be part of the group and how it feels to be excluded from the group; "Maintenance Needs" of the group – a desire for individuals to work together and for belonging so to improve understanding and co-operation.
How groups form and the stages that they go through, Forming, Storming, Norming and Performing.
Also by actually taking part and doing the activities that they will retain more of the information. Individuals will remember 10% of what they read and 20% of what they hear but 90% of the information will be retained if they actually "do it for real".
Try an Orienteering challenge with problem solving tasks. Scrambling up rock faces or abseiling down them.
Price is £40.00pp for a full day (10am till 4pm) at Black Rocks. Minimum number in group 6 people.
Truth & Trust Adventure can also come to your location to run an indoor Team Challenge Event. All we would need is a suitable indoor area or a suitable outside location.
Choose a half day (3hrs) or a full day (6hrs).
Prices start from £30pp for a half day and £40pp for a full day.